How Bailey Streetscene is innovating to deliver dependable HVM Solutions
Posted on 05/09/2023
Innovation in the design and performance capabilities of Bailey Streetscene systems and products is enabling property owners and developers to integrate highly effective measures into the design of their site to protect people and buildings from the growing risk of hostile vehicle attacks.
With its Protect range, the company provides a number of Hostile Vehicle Mitigation (HVM) solutions that can be deployed in all kinds of publicly accessible locations (PALs) in a way that provides protection to a specified level, without adversely affecting the site's accessibility, useability operational goals or aesthetic appeal.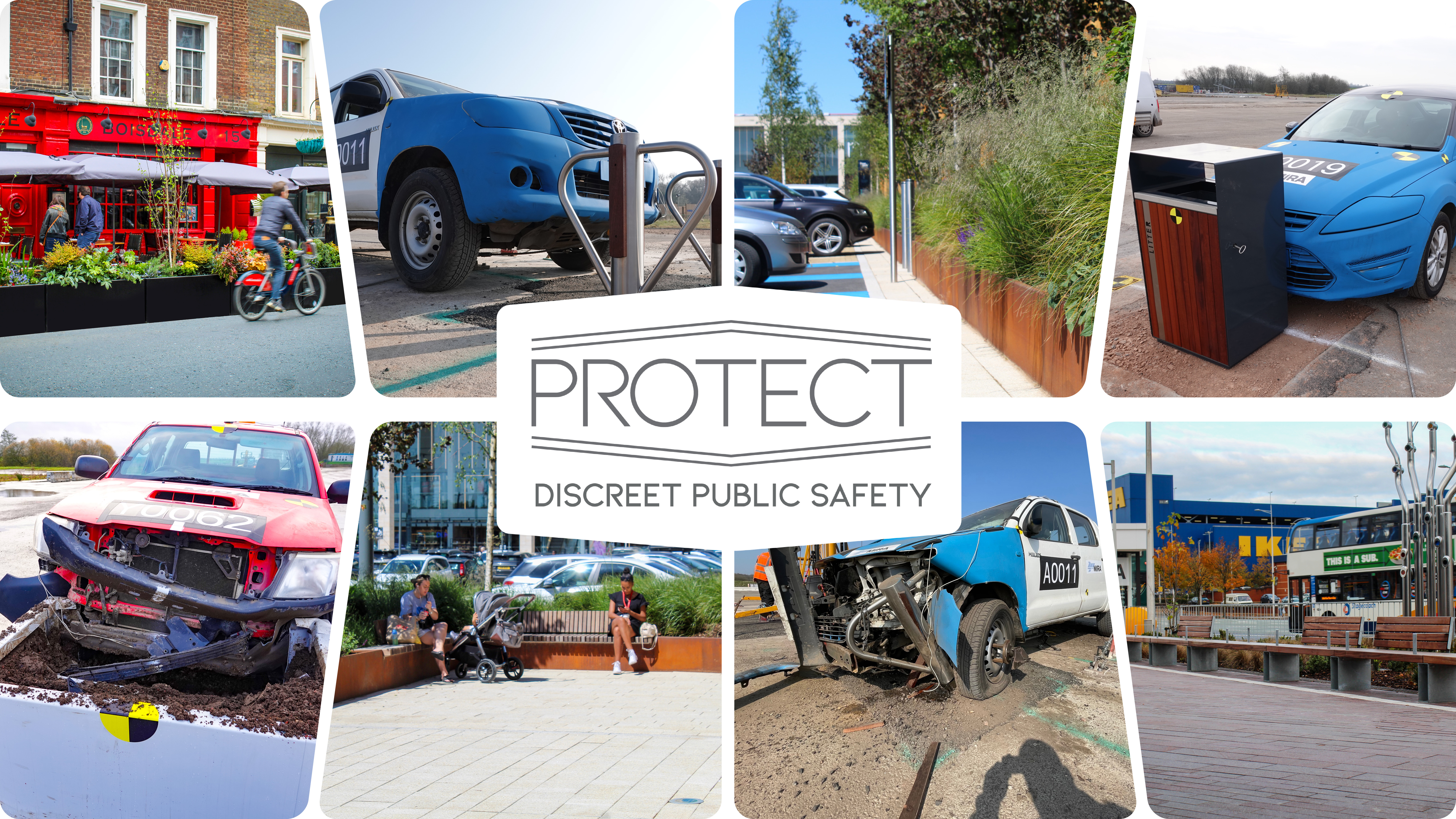 HVM will be an increasingly high priority for site owners given the proposed introduction of Martyn's Law, a new law campaigned for by the mother of one of the 2017 Manchester Arena bombing victims, Martyn Hett. Currently under review by MPs, the pending UK wide legislation places a requirement on those responsible for certain PALs to consider the threat from terrorism and implement appropriate and proportionate mitigation measures.
Although the Home Affairs Select Committee has questioned the scope of the proposed law and said that there is the potential for it to burden small businesses and be ineffective at preventing some attacks, the intention of the new legislation is without question. That is why it is inevitable that many site owners will have to take some form of action to better protect their premises – doing nothing is not an option.
The value of securing spaces in terms of user peace of mind and asset protection may far outweigh the costs associated with making a site safe and futureproofing it against emerging threats. This is where the Protect Range allows site owners to improve their HVM measures in a discreet yet effective way. Bailey Streetscene will be showcasing the Protect Range at the International Security Expo (stand A110) on 26-27 September 2023.
So what exactly are the HVM solutions available from Bailey Streetscene?
The Protect range is a complete suite of impact-tested street furniture to IWA 14-1 standards. This reflects the performance capabilities of products to provide security and protect pedestrians and urban infrastructure, while also enhancing the aesthetic value of the space.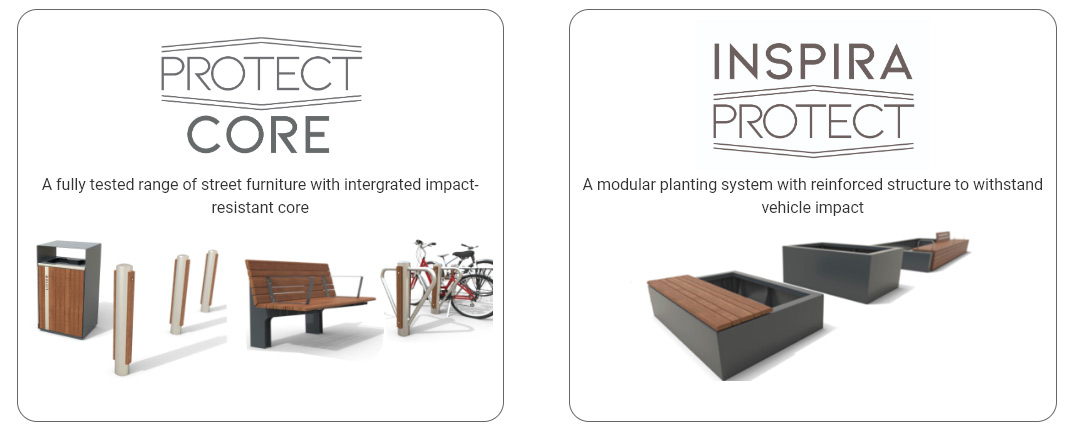 There are two systems available from Bailey Streetscene that allow for HVM to be integrated into well-designed street furniture elements, bringing discreet public safety to urban spaces – the Protect Core and Inspira Protect.
Assured protection to the core
Protect Core is a fully tested range of four street furniture products, all of which feature an integrated impact-resistant core to deliver great versatility. A shallow-mounted structural column supports and reinforces the street furniture elements which all provide consistently high levels of security and protection through their innovative engineering. The Protect Impact Core is hot dip galvanised to BS EN 1461:2009 as standard and cast in concrete at a total depth of only 250mm.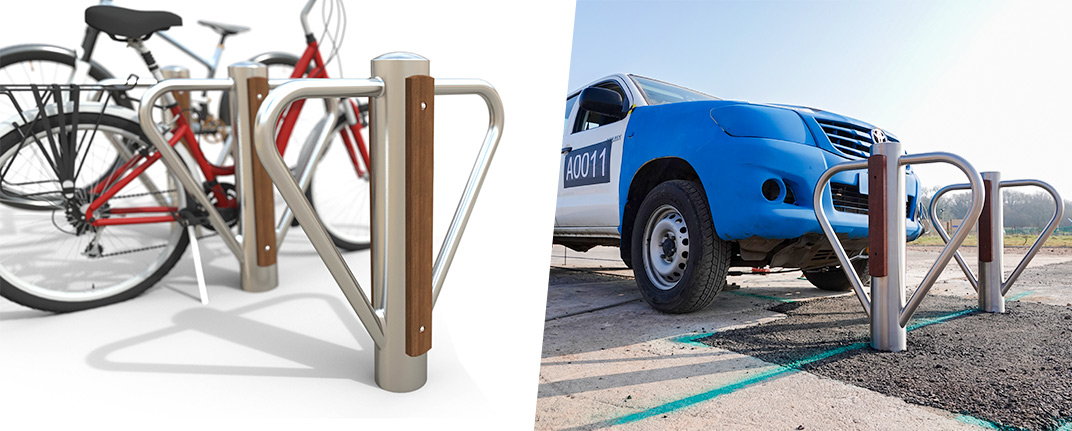 The first of the products in the Protect Core range is the Protect Cycle Stand. This is manufactured in a grade 304 grit brushed finished stainless-steel sleeve, with two options for the top style, Sapele hardwood timber bumpers and it is available in galvanised and powder-coated steel. Performance is assured to IWA 14-1:2013 – V/1500[M1]/48/90:2.2 for the single core and V/2500[N1G]/48/90:0.0 in the dual core option.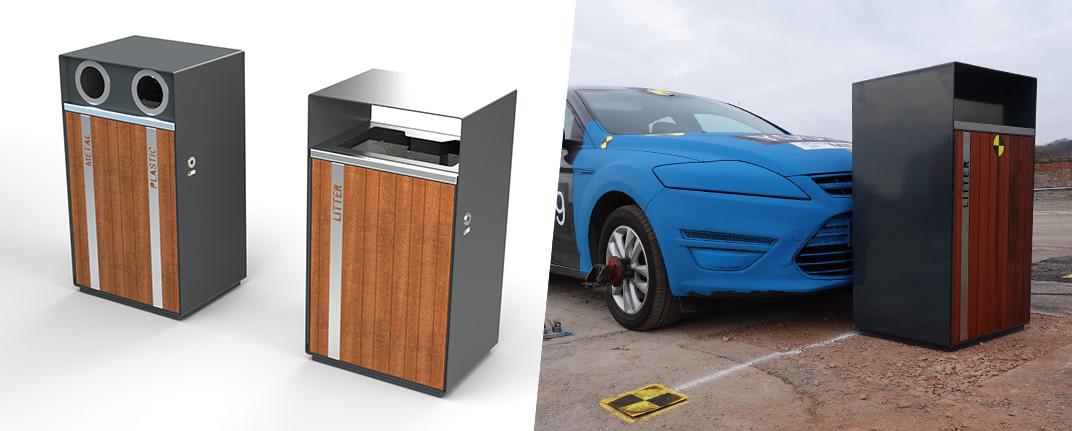 Complementing the Protect Cycle Stand with the same IWA 14-1 performance is the Protect Litter Bin. This features a corrosion-resistant steel shell that is powder coated to the required specification, and a Sapele timber-clad door with stainless steel fixtures. It can be specified as a recycling bin option with two 60L steel liners or a standard 120L capacity general waste version.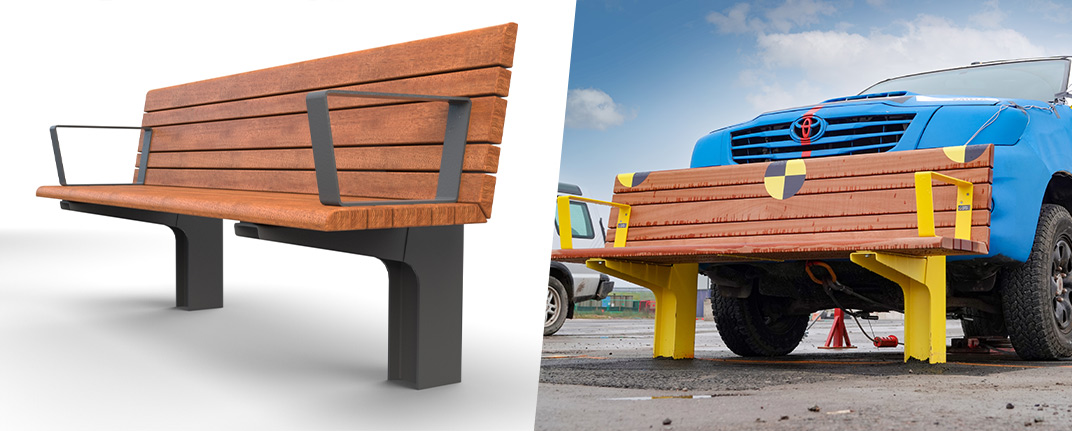 The Protect Seat features a galvanised corrosion-resistant, powder-coated steel frame clad in hardwood timber slats, with the option of armrests if required. It can also be combined with a table and additional bench to form a picnic set and has an IWA 14-1:2013 test rating of V/2500[N1G]/48/90:0.0.
Completing the Protect range is the Protect Bollard. This is manufactured as standard in a grade 304 grit brushed finished stainless-steel sleeve, with the option of either a flat top or fully welded dome top and two Sapele timber bumpers. It can also be manufactured in galvanised and powder-coated steel.
Enhancing and protecting the environment with Inspira Protect
This is a modular planting system, again featuring a reinforced structure, suitable for use as part of an HVM strategy.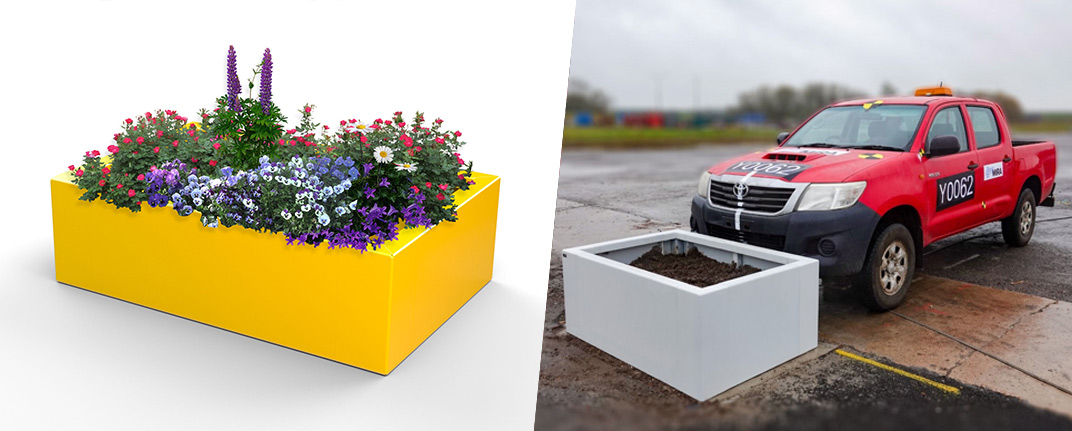 As with the Protect Core range, Inspira Protect planters have been tested to IWA 14-1 standards to demonstrate that they can withstand impact from both 1.5 and 2.5 tonne vehicles. This is achieved thanks to Inspira Protect's impact-resistant fully-welded steel support frame, which goes unnoticed due to its attractive external design.
This excellent level of protection makes the product suitable for numerous different applications across the public realm. For example, the planters can protect urban infrastructure, such as in front of buildings or on retail parks, or be used for traffic calming measures and to close off existing roads without the need for deep foundations, which can be the case with some other certified impact-resistant products.
Inspira Protect is also ideal for opening up outdoor spaces safely for hospitality and community use as the product can securely section off green spaces without impacting aesthetics or compromising access for pedestrians and cyclists.
The subframe and cladding panels are galvanised and powder-coated to meet the client's specification. The planter sits atop a slab foundation of 150mm and given its modular design, it can be scaled up where required with ease, whilst the 2.5-tonne vehicle-resistant version features a higher axle impact point with a height of 600mm.
Bailey Streetscene is a division of Bailey Street Furniture Group, one of the UK's leaders in the design, manufacture and design of street furniture, playground elements and associated services to the public realm, commercial and educational schemes.
Find out more about the HVM solutions available at www.baileystreetscene.co.uk/protect-range.