We offer a fantastic range of shelters that look great and are superbly functional. These include cycle shelters, buggy shelters, bus shelters, smoking shelters & bin stores.
Our shelters are manufactured in the UK and backed up by BS EN 1090 certification (traceability, compliance and verification throughout the manufacturing process from the procurement of raw materials through to the final inspection and testing) which ensures you have a safe structure built to last.   
We recognise that in some instances you require more than an 'off the shelf' solution. So, as well as the range of shelters on this website, we also offer a bespoke design service too. This allows you to create one-off, unique shelters to suit your particular project specifications.
At Bailey Streetscene, we don't just provide you with outstanding products either – we offer a range of bespoke services from consultation and design through to manufacture and installation.
Shelters from Bailey Streetscene
Explore an extensive range of high-quality outdoor shelters from Bailey Streetscene, giving architects and contractors flexibility and confidence for their project requirements.
We are a leading UK manufacturer and supplier of stylish and durable outdoor shelters (backed by BS EN 1090 certification), which are designed to meet the challenging needs schools, businesses, and public spaces.
You can be confident in specifying a shelter from our extensive range where it provides protection from various weather conditions, enhances the aesthetic appeal of outdoor areas, and offers a high degree of functionality.
Outdoor shelters
Bailey Streetscene offers a comprehensive range of shelter solutions for your project, including:
Cycle shelters: Keep bicycles secure and protected with our robust and stylish cycle shelters. Create bespoke designs from a variety of designs, materials, and sizes to suit your specific requirements.
Smoking shelters: Enhance a local environment while conforming to the relevant regulations with our durable smoking shelters, providing a designated smoking area. Available in various styles and finishes to complement any business or hospitality setting.
Playground shelters: Provide comprehensive cover from the elements with our range of high quality playground shelters. Perfect for education buildings and communal playground areas. Available in vibrant, attractive designs with robust functionality.
Bus shelters: Protect waiting passengers and enhance a local area with our range of elegant and hard wearing bus shelters. Customise the design, size, and materials to suit your needs.
Bin stores: Keep outdoor areas clean and tidy with our secure and attractive bin store solutions. Customise the design and size to accommodate your waste management needs.
Benefits of buying your shelters from Bailey Streetscene
Robust: all our products are backed up by BS EN 1090 certification, ensuring the shelter you choose is fit for purpose and will stand the test of time. Our shelters are available in high quality materials such as steel frames (available in galvanised and powder coated finish for extra durability); as well as durable plastics including multiwall polycarbonate or PVC plastisol coated sheets.
Aesthetically pleasing: Our modern designs will enhance your customer's project area.
Availability and short lead times: We can offer short lead times to suit projects with demanding works schedules.
Bespoke for your project: You can specify our shelters in a wide range of customised options e.g. colours, coating, size etc.
High quality: All our shelters undergo rigorous testing and quality control.
Easy selection: Our team is here to add value to your project and help your product selection.
Shelter project: Olympus, Omega South, Warrington
The £1 billion project set over 5 years is the largest mixed-use development in the North West of the England. It contains commercial premises, a range of new homes, a school, plus retail and leisure opportunities, all set within a large network of green spaces.
Bailey Streetscene manufactured and installed a number of bicycle and motorcycle shelters.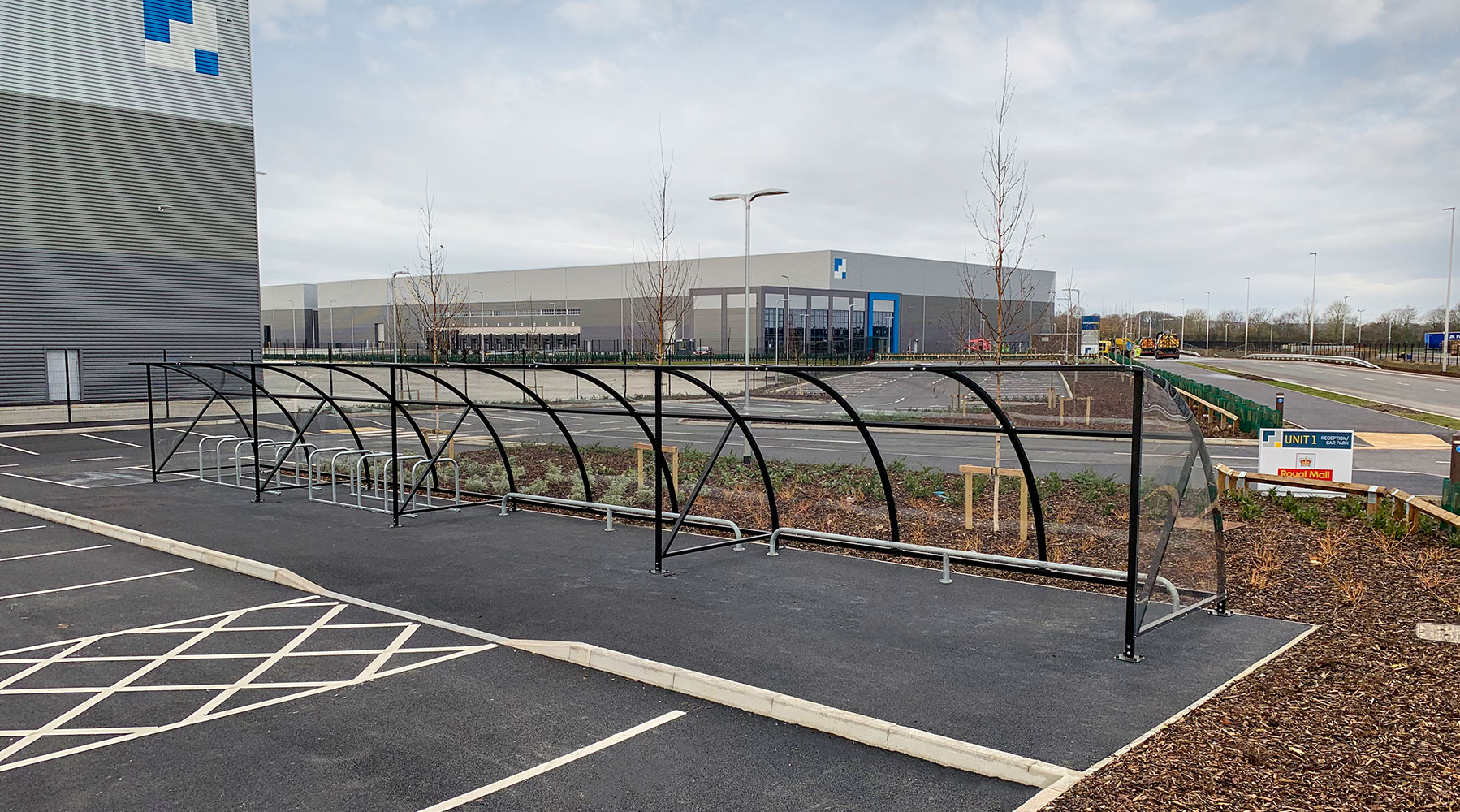 The Stoke Shelter was specified due to its flexibility and versatility. Its simple and striking design also enhanced the commercial premises with a black powder coated frame together with clear PET cladding.
The shelters across the mix-use development serves as safe and secure storage for bicycles and motorbikes for workers and visitors to the site.
Why buy your canopies and walkways from Bailey Streetscene?
Bailey Streetscene isn't just a traditional supplier where you simply order from us, and we ship the product to site.
We are here to make sure you get exactly the right outdoor shelter solution for your project requirements. That can mean an 'off the shelf' solution or a more bespoke product for your specification.
Our team at Bailey Streetscene are problem solvers and passionate in making sure you get an exceptional service.
We have a large range of shelters to choose from (see product selections above), and can help you with your product selection to save you time meaning you can move your attention to other aspects of a project or even another project altogether.
If you are working on a project with a shelter requirement, feel free to contact our team on telephone 01625 855900, email at enquiries@baileystreetscene.co.uk, or feel free to browse our product categories above or use the contact form below.