Keeping outdoor spaces clean, safe, and visually appealing is a top priority for communities, businesses, and property owners.
Aesthetically pleasing and functional, our range of litter bins are popular with architects, urban planners, contractors and other construction professionals.
Bailey Streetscene offers a comprehensive range of litter bins that cater to various outdoor environments, from public parks to commercial and residential developments.
Explore the benefits of our range of litter bins, including design options, materials, and essential factors to consider when choosing the right litter bin for your project.
---
FILTER SEARCH RESULTS - PRODUCTS
The benefits of Bailey Streetscene litter bins
You will enjoy various benefits when you specify our range of litter bins, including:
Robust and durable construction:
Our range of litter bins are designed and built to withstand harsh outdoor conditions and heavy use.
Manufactured from a range of quality materials including steel and timber, you will benefit from a durable, long-lasting performance.
The Greengate Litter Bin is a popular option among contractors and urban planners due to its aesthetic and functional qualities. It seamlessly combines outer timber cladding with an inner steel cylinder structure, in a unique and modern design.
The galvanised steel is 304 grade with the option to powder coat in a huge range of RAL colours. You have the option of specifying softwood or hardwood timber slats which are treated for longevity.
Wide range of designs to suit your project's environment:
With a diverse selection of designs available, you can find the perfect litter bin to complement your outdoor space and meet your client brief.

For a more traditional litter bin suitable for green spaces, the Deacon Litter Bin is a popular choice. The Ascot Litter Bin is a more modern and bold design popular in contemporary urban spaces and outdoor retail environments.
Environmentally friendly materials:
Many of Bailey Streetscene's litter bins are made from eco-friendly and recyclable materials, reinforcing your commitment to sustainability and the environment.

The Roma Recycling Bin is made from polyethylene, which is completely recyclable at the end of the useful product life.
Easy installation and maintenance:
Designed for easy installation for sub-contractors and low-maintenance operation, our litter bins are an ideal choice for public spaces, commercial properties, and residential areas.

The Bradford Stainless Steel Litter Bin is a popular option as it can be installed in a surface mounted or root fixed option. Base plates are supplied with surface mounted designs while for root fixed only a shallow excavation is required.
Design options for every outdoor environment
Bailey Streetscene offers a diverse range of litter bin designs to suit various environments and aesthetic project preferences. Popular design options include:
Traditional litter bins: Classic and timeless, traditional litter bins are a popular choice for parks, streets, and public spaces. Available in various materials and finishes.
Modern litter bins: For a more contemporary look, modern litter bins feature sleek lines and minimalist design elements. Perfect for commercial properties and urban spaces.
Recycling litter bins: Designed to promote responsible recycling habits, these bins feature separate compartments for different types of recyclable materials.
Durable materials for long-lasting performance
Bailey Streetscene's litter bins are crafted from a variety of durable and robust materials to ensure longevity and minimal maintenance. Some of the materials used include:
Stainless steel: Stainless steel is an excellent choice for outdoor litter bins with modern aesthetics as well as high strength and corrosion resistance. It also requires minimal maintenance on an ongoing basis.
Galvanised steel: Galvanised steel is steel that has been coated with a layer of zinc to protect it from corrosion.
The zinc coating can protect the steel for several decades, depending on the thickness of the coating and potential environmental conditions.
Powder-coated steel: Powder coating is a finishing process in which a dry powder, typically a thermoplastic or thermoset polymer, is applied to a steel surface and then cured under heat to form a protective and decorative layer.
This finish not only enhances the bin's durability but also adds a touch of style and customisation to your outdoor space.
Polyethylene: This versatile and environmentally friendly material is lightweight, resistant to UV rays, and easy to clean, making it a popular choice for outdoor litter bins.
Promoting environmental responsibility in your project
By investing in quality litter bins from Bailey Streetscene, you are not only enhancing the aesthetic appeal and functionality of your client's outdoor space but also promoting responsible waste disposal habits.
Encouraging waste management has numerous environmental benefits for your client's project, including:
Reduced littering: Providing easily accessible and clearly marked litter bins helps reduce littering in public spaces, keeping them clean and visually appealing.
Increased recycling rates: Offering recycling litter bins encourages users to dispose of recyclable materials responsibly, reducing the environmental impact of waste.
Wildlife protection: Litter-free environments help protect wildlife by reducing the risk of ingestion or entanglement in discarded waste products.
Improved public health: Clean and litter-free spaces contribute to improved public health by reducing the presence of pests.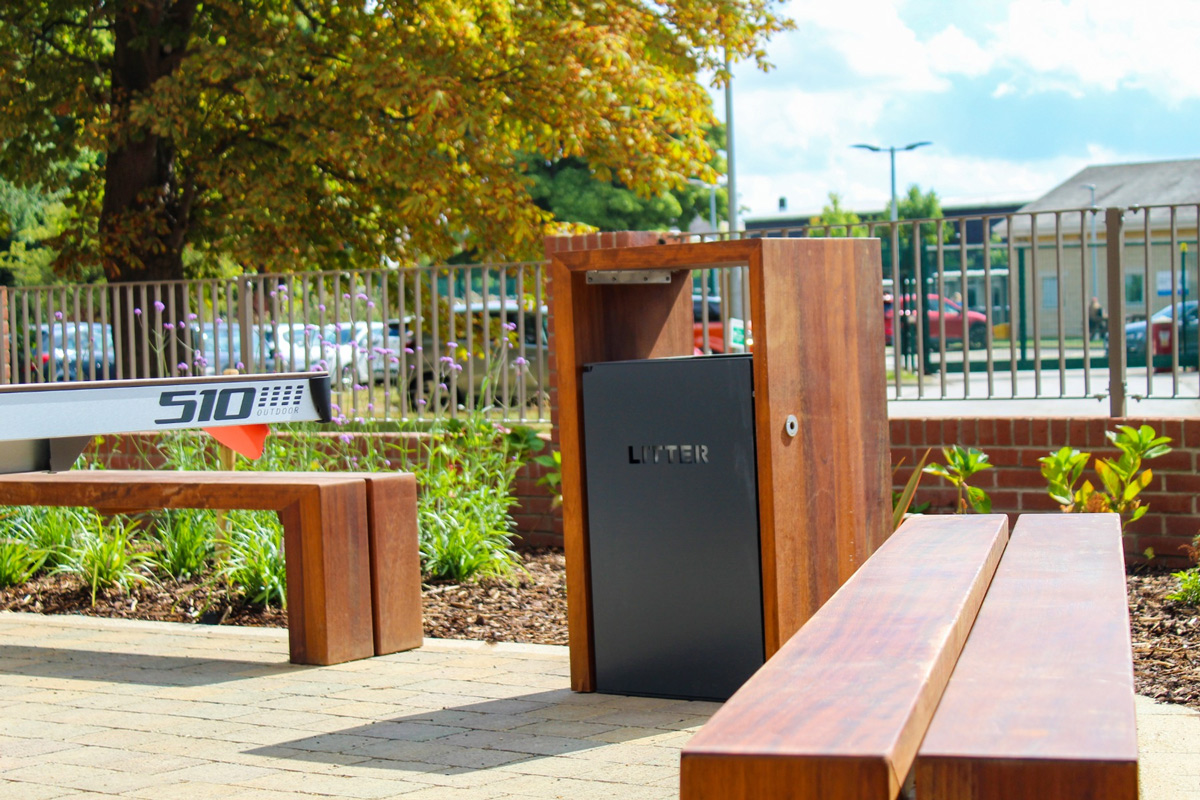 Why buy your litter bins from Bailey Streetscene?
Investing in high-quality litter bins from Bailey Streetscene is a smart decision for anyone looking to enhance their outdoor spaces and promote responsible waste disposal habits.
With a vast selection of durable materials, versatile design options, and customisation possibilities, you can create the perfect litter bin solution that meets your client's brief.
Bailey Streetscene is committed to providing the highest level of customer service and support throughout the whole specification process. We are much more than just product suppliers, as our team is passionate about making sure you get the right product solution for your project.
We have a large range of bins to choose from and can help you with your product selection to save you time meaning you can move your attention to other aspects of a project or even another project altogether.
If you are working on a project with a litter bin requirement, feel free to contact our team by telephone 01625 855900, email at enquiries@baileystreetscene.co.uk
Explore Bailey Streetscene's extensive range of litter bins today (see our selection at the top of the page) and transform your outdoor space into a clean, green, and inviting environment for all to enjoy.