Our Concrete Bollards give any outdoor environment added protection. They help to create safer, more effective perimeters and boundaries.
Concrete bollards are often used to demarcate vehicle and pedestrianised areas.
Add these to your outdoor environment aesthetic, increase safety, use as a deterrent, or possibly add as a flexible seating option in certain locations.
---
FILTER SEARCH RESULTS - PRODUCTS
Concrete bollards are a popular specification choice for architects and main contractors working on urban developments.
Combining robustness with design flexibility, they serve both functional and aesthetic roles within a town centre or commercial development.
Concrete bollards are statements of strength, longevity, and modern design.
Specification benefits of concrete bollards
By designing and installing our concrete bollards into your project, you can be assured that your client will benefit from highly durable and robust barrier structures. They bring the following benefits:
Durability and longevity - Concrete bollards must endure a range of weather conditions, heavy usage, and potential vandalism and vehicle attacks, particularly in urban environments.
Concrete is an excellent material regarding weather resistance. The UK's ever-changing climate, from rain to frost, demands materials that can withstand these fluctuations. Concrete bollards stand resilient against most weather conditions without deteriorating, providing unrivalled stability.
Furthermore, concrete is highly resistant to damage and abrasion from high humidity and rain. It has hardly any organic content that can rust or rot, so moisture can only attack at joints. Annual joint maintenance ensures a concrete bollard remains impermeable to moisture.
Our Harbour Cube is a popular choice for architects and main contractors, working on urban projects. Manufactured from standard precast concrete with an acid etch finish, one of its real advantages is that it is actually a cubed shape bench but can be used as a bollard. This is due to its strength and robust structure.
It is available as standard in a dressed finish, or you have the option of specifying in a premium finish such as light acid etch, polished, or heavy exposed. Our premium options feature various textures and grains for a unique look.
The Harbour Cube is also available in a range of colours as well as other bespoke options, including armrests, anti-skate studs, timber toppers and specialist casting.
Robust security - Concrete bollards have a high impact resistance and provide a formidable barrier for urban areas.
Their high compressive strength also means they can withstand various loads and impacts. This makes them a popular specification choice for security and anti-ram functionalities. Their sheer mass and strength can deter vehicular threats effectively.
Versatile aesthetics - Modern production methods allow for a variety of finishes, colours and designs for concrete bollards. Architects can realise a greater architectural vision for their urban development, and main contractors are able to purchase more varied and versatile product options.
Our Westminster Cube is a popular choice among specifiers, due to the versatility in its design. You can choose between a standard dressed finish, or for a more premium option you can select light acid etch, polished, or heavy exposed concrete style.
The premium finishes are achieved during the manufacturing process, by exposing the aggregate underneath the surface to varying degrees.
You can customise the concrete bollards further with a range of colours to complement the grain texture. Standard colours include grey, white, and black, and we also have more specialist colours available. Contact our team for further details.
Low maintenance - The maintenance costs of properly installed concrete bollards are little to none, with many applications lasting for decades. While you might choose to coat or repaint concrete for aesthetic reasons, doing so isn't required to maintain its structural performance.
Cost effective to suit your project's budget - Here at Bailey Streetscene, we appreciate street furniture is commonly considered towards the end of a project's scope. By this time, clients are usually asking main contractors to value engineer products and save budget where they can.
You can be assured that when you purchase your concrete bollards from us, you are specifying high quality products at cost-effective prices.
Increased sustainability - Sustainability is a core issue when it comes to our product offering, and our concrete bollards are all recyclable at the end of their useful lifecycle, thus contributing to the Circular Economy.
This brings green credentials to your project, as well as ensuring lower levels of embodied carbon during the project scope.
After sales support - Post-installation issues, whether they be related to product defects, damages, or wear and tear, can be a significant pain point for main contractors.
We don't envisage you will have any issues with our range of concrete bollards, but if you do, our team will deliver a prompt and efficient service to sort the issue quickly.
Concrete bollard project
Bailey Streetscene was pleased to supply a number of our Westminster Cube bollards to Wade Deacon High School in Widnes. Their redevelopment project included the requirement for a complete external furniture package, to enhance and upgrade the outside areas.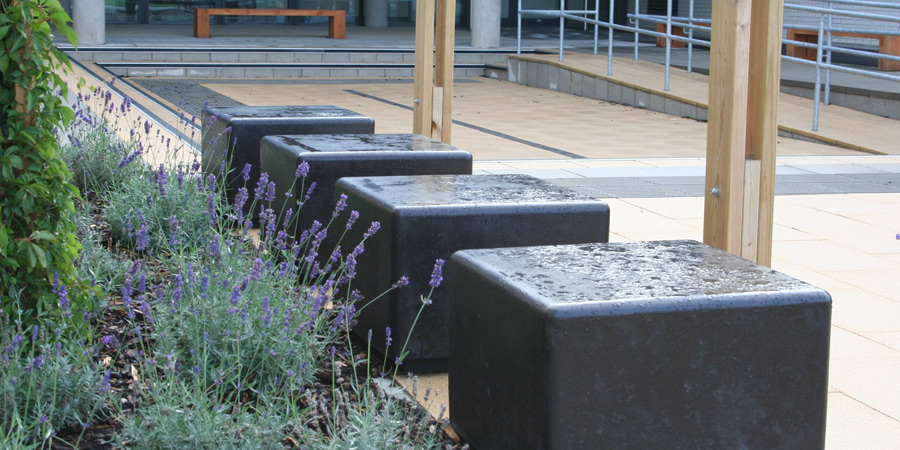 Part of this included our Westminster Cube, which was specified in several sizes. They were designed to assist with the flow of people as well as providing somewhere for students and teachers to sit outside.
Working closely in conjunction with Vinci Construction and the ground workers, Bailey Streetscene delivered and installed the concrete bollards, as well as other street furniture products.
Why buy your concrete bollards from Bailey Streetscene?
For architects and main contractors looking to create spaces that combine function with form, concrete bollards emerge as a strong specification option.
Whatever type of project you are working on, here at Bailey Street Furniture we have the right concrete bollard for your project's requirements.
We work with architects and contractors on a daily basis with concrete bollards, as well as other street furniture products, guiding on product selection and technical advice.
Like all our products, our range of concrete bollards undergo rigorous testing and quality control. You can be assured your project will stand the test of time.
Our team helps to bring certainty to your project, ensuring you get the right specification, at the right price, delivered on time.
If you would like more information on our range of concrete bollards, feel free to contact our team on telephone 01625 855900, email at enquiries@baileystreetscene.co.uk or view the individual products above.