Designs that grow on you
Our concrete planters are designed to be part of a range that also provides seating. Large concrete planters create space for mini-gardens with trees and shrubs room to flourish.
Increased green areas make a community more attractive & add a vibrant touch to an otherwise dull or unsightly area.
Bailey Streetscene planters are available in a range of sizes to suit any landscape and are extremely versatile: you can plant evergreen shrubs to provide colour all year round in any urban surroundings or even plant seasonal plants which ring the changes with each season.
---
FILTER SEARCH RESULTS - PRODUCTS
Due to its material characteristics, concrete planters are a favourite for outdoor projects, particularly urban environments. They merge functionality with aesthetic appeal, blending seamlessly into city centre landscapes.
Concrete planters are a favourite among architects and contractors working on projects in an urban setting, bringing a stylish and earthy appearance to planter schemes.
Not only that but the inherent strength and durability of concrete means it can withstand heavy loads and pressures. Meaning it is a suitable material for larger trees and also for planters in a public area that incorporate seating.
Here at Bailey Streetscene, we understand various street furniture products are considered towards the end of the specification process. This is common for how planters are selected for an area.
However, we work with architects and contractors to ensure concrete planters are given much more consideration into early design plans, helping them to make maximum visual and performance impact for a project.
But with a wide variety of shapes, styles, and options, how do you choose and install the right concrete planter for your project?
The aesthetic appeal of concrete planters
Concrete planters offer a range of aesthetic benefits that make them a popular choice for architects, main contractors, and urban designers. 
In terms of specification options, you have an incredibly wide range of styles, textures, colours, and shapes to select, ensuring project success for your client. From geometric to organic shapes, concrete can be moulded to any form, offering designers unparalleled freedom.
The Roosevelt Planter is a circular planter comprising of eight modular units which make up a circle. It offers stylish and contemporary aesthetics and is popular for outdoor areas such as universities, commercial developments and city centres.
The Aris Modular Concrete Planter collection offers specifiers the ultimate in contemporary street furniture planters. It is a series of modular pieces where you can design a bespoke scheme to match your project environment, offering an infinite array of possibilities within urban furniture composition and arrangement.
You can select a range of colours, material finishes, timber selection, as well as other optional extras including armrests, specialist casting within the concrete and anti-skate studs.
Functional benefits of concrete planters
Concrete's robust nature ensures that the planters can withstand heavy loads, making them ideal for larger plants and trees. It also makes them an ideal choice for areas with large number of pedestrians, for example city centres.
Concrete planters are heavy in terms of transportation and moving around site, but their weight plays to their advantage once they are in place. They are virtually impossible to steal because of their weight.
Another benefit for specification is come rain, snow, or direct sunshine, concrete planters endure the elements really well. They won't fade, warp, or rot.
Concrete planters offer longevity, meaning you can be confident when you install one your client will be happy for many years to come. Unlike wood or certain metals, concrete doesn't require frequent treatments or finishes to maintain its appearance. And in terms of ongoing maintenance, minor cracks or chips can be easily repaired, extending the planter's lifespan.
Sustainable benefits of concrete planters
Concrete planters offer architects, main contractors, and sub-contractors excellent sustainability benefits, helping your project's green credentials.
They can be recycled at the end of their useful lifecycle, where concrete planters can be crushed and repurposed into other concrete structures.
Concrete planter case study
Atherleigh Park – Leigh, Greater Manchester
Product: Aris Planters
Bailey Streetscene were approached in the early stages of the project by both Kier Construction (main contractor) and Fabrik (landscape architect), to design and supply a range of street furniture products for the internal courtyard areas of the hospital.
The specification package proposed by our team at Bailey Streetscene included a range of products including benches, seats, handrails, and planters, including the Aris Concrete Planter.
The Aris Concrete Planter was designed into seating units within the courtyard. All of the seating units were placed to be facing inwards to increase the sense of community and promote sociability.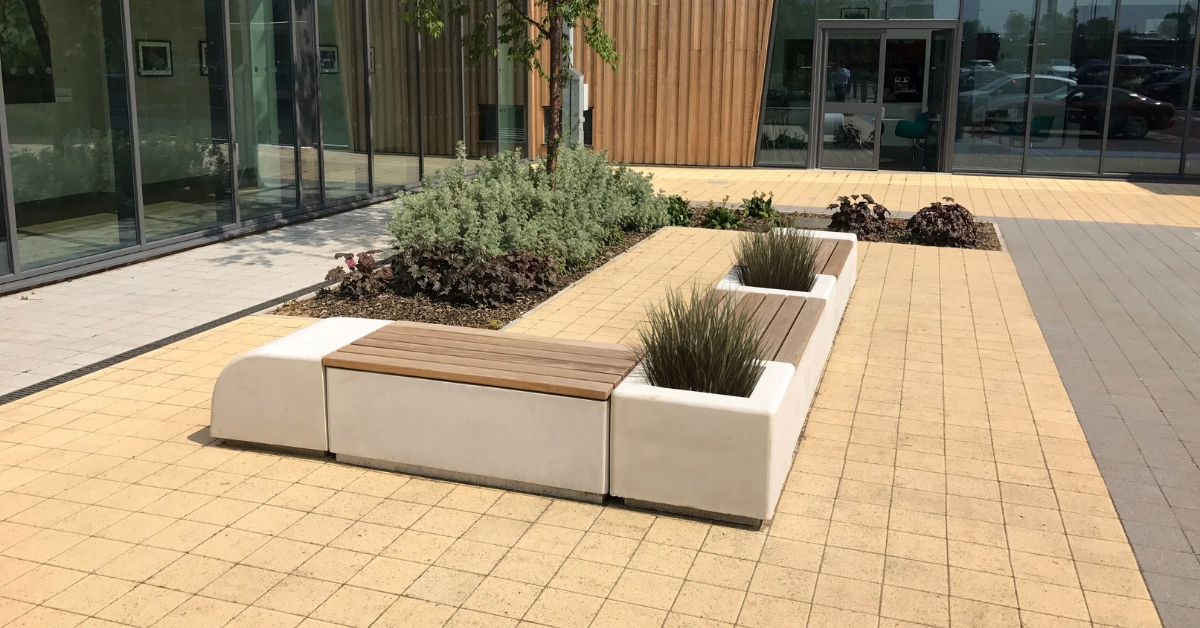 With early discussions taking place between all parties Bailey Streetscene were able to coordinate the delivery and installation of all units within the allotted time constraints on the various phases of work.
Why buy your concrete planters from Bailey Streetscene?
Concrete planters challenge the conventional, offering architects and contractors a blend of durability, design freedom, and sustainability.
As urban landscapes continue to evolve, concrete planters stand as both functional and artistic installations.
With our range of concrete planters, you can be assured you will find the right design, size, and finish for your project requirements. Whether you are working on an urban space, retail development, or residential complex, you can trust Bailey Streetscene to provide you with concrete planters that are fit for the purpose intended in terms of aesthetics and functionality, with the technical support to match.
We work with architects and contractors on a daily basis with concrete planters, guiding on product selection and technical advice.
Like all our products, our range of concrete planters undergo rigorous testing and quality control. You can be assured your project will stand the test of time.
Our team helps to bring certainty to your project, ensuring you get the right specification, at the right price, delivered on time.
If you would like more information on our range of concrete planters, feel free to contact our team on 01625 855900, email at enquiries@baileystreetscene.co.uk or view the individual products above.