Telescopic bollards can add an extra level of security to buildings as well as being an excellent solution for reserving parking spaces or controlling access.
We supply a range of telescopic bollards including Warrior Anti Ram & Access Control Bollards. The requirement for anti-ram and pedestrian protection bollards has led us to design a range of internally strengthened bollards, and the designs range from bollards filled with concrete to bollards with additional high tensile steel reinforcement.
We also manufacture bollards to our clients' specifications, allowing our customers the freedom to choose the precise height, diameter and design to suit their particular bespoke project requirements.
---
FILTER SEARCH RESULTS - PRODUCTS
Architects and main contractors are increasingly looking for adaptable and functional street furniture products, as part of their urban designs.
Telescopic bollards are popular in town and city centre project specifications. Designed to rise and retract on demand, these bollards offer an unparalleled combination of robust protection and aesthetic appeal.
Whether you have a requirement that involves safeguarding a pedestrian zone, securing a business front, or managing traffic flow, telescopic bollards provide an elegant and durable solution.
Public safety is high on the agenda among recent UK government policies. There are increasing trends in urbanisation and pedestrian zones, as well as improving safety for green spaces, parking facilities and commercial buildings.
With this in mind, architects and main contractors are increasingly specifying telescopic bollards in urban designs. They can be assured that visually the bollards enhance a local area with stylish and contemporary looks, while also being fit for purpose providing the required safety for nearby pedestrians while standing the test of time in terms of durability.
Bailey Streetscene is pleased to offer a range of telescopic bollards, helping design professionals and contractors alike achieve a safe and visually-impacting project.
Benefits of telescopic bollards from Bailey Streetscene
 Telescopic bollards are firm favourites with architects and main contractors due to the following reasons:
Aesthetic appeal - One of the main advantages of telescopic bollards is their visual impact on local surroundings. Not only can the bollard structures enhance a local area with stylish looks, but the fact they can be lowered back into the ground when not in use means they blend seamlessly into any urban or rural environment.
The sleek design of our range of telescopic bollards can be customised to complement any urban environment, ensuring that security measures don't detract from the aesthetic vision architects aspire to achieve.
At Bailey Streetscene, we recognise that every project has its own requirements in terms of visual appeal and functional demands. We offer a wide range of customisations on our range of telescopic bollards.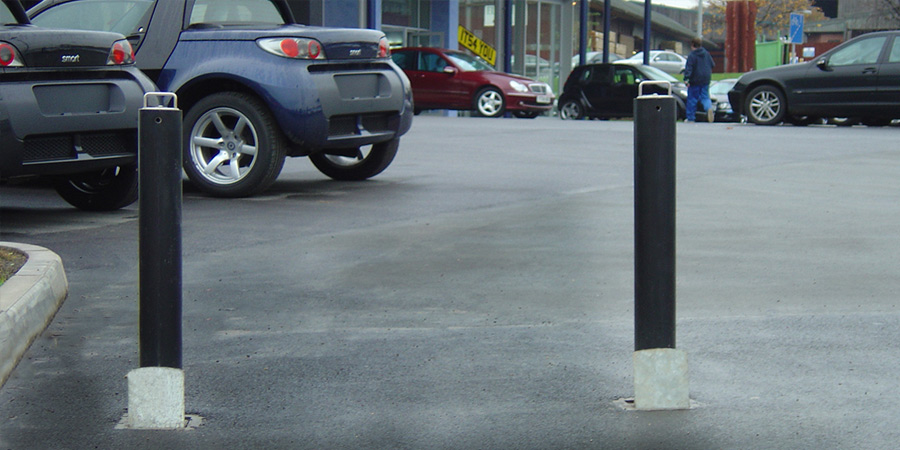 The Warrior HD Round Telescopic Bollard is a popular choice among architects and main contractors. It offers contemporary styling that will enhance any residential or commercial environment, but not only that, you are able to customise the bollard to suit your project requirements.
It is available in a galvanised finish as standard, or you can specify in a powder coated finish. And in terms of colour, you can choose between a huge range of RAL colours. The most popular colours include Jet Black, Graphite Grey, Ultramarine and White.
Other customisation options include added grooves, reflective banding and can be purchased with a keyed alike option, meaning a series of bollards can be operated with the same key.
Increased security - Our range of telescopic bollards can be lowered to allow vehicular access during specific times and raised during peak pedestrian hours or events, ensuring spaces remain adaptable and multi-functional.
When raised, they act as an impressive barrier against unauthorised vehicle intrusion, offering peace of mind to your clients and nearby pedestrians.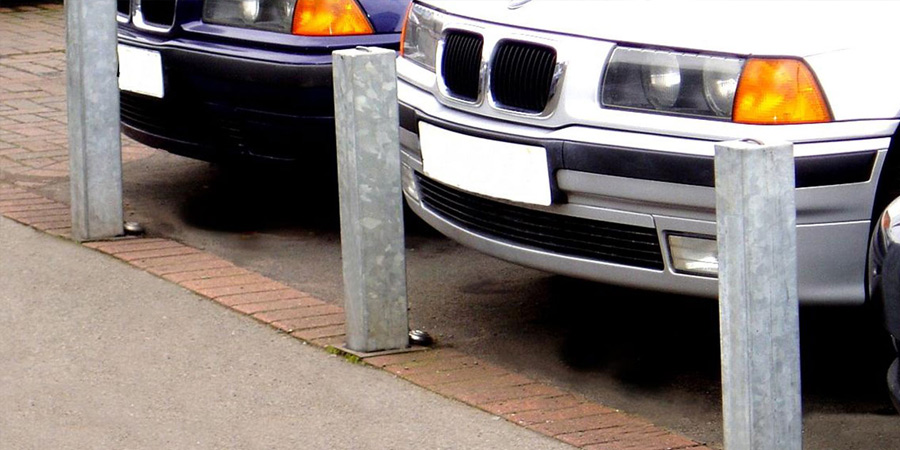 The Telescopic Traffic Stopper is a simple, strong bollard that is suitable for a range of residential or commercial car parks and urban environments.
Like many of our bollards, it is available as standard in a galvanised finish but you have the option of specifying in a powder coated finish. The powder coating finish creates a tight seal to keep out contaminants and enable the steel structure to last longer.
You also have the option to customise the Telescopic Traffic Stopper in a wide range of RAL colours, integrated grooves, reflective banding, and keyed alike options.
Robust and long lasting - You can be assured that by specifying our range of telescopic bollards your client will benefit from a product that will last for many years.
Our telescopic bollards are manufactured from steel, which carries a high strength to weight ratio. It resistant to impact and scratches, and resilient to corrosion.
This means main contractors will benefit from bollards that will last for their client for many years, while requiring very little in terms of regular maintenance or remedial work.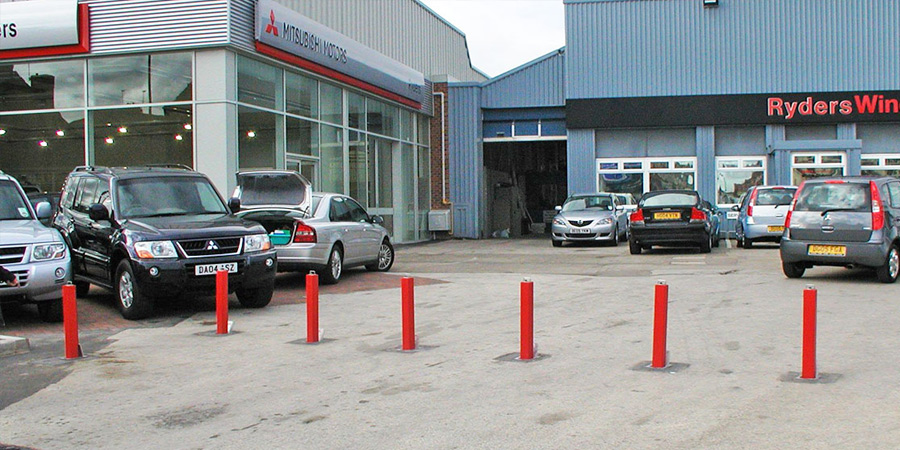 The Warrior HD Square Telescopic Bollard is a popular choice for architects and main contractors looking for a square bollard solution. Its striking appearance offers a real visual impact and deterrent in public spaces, and because it is manufactured using steel it offers incredible strength and durability.
Like all of our telescopic bollards, you are able to customise the Warrior HD Square Telescopic Bollard with additional coatings, colours, and integrated grooves and reflective banding.
Sustainability credentials - Our range of telescopic bollards offer green credentials for your project. Steel is 100% recyclable and it can be recycled at the end of its useful life and re-used in the future, without any degradation to its performance.
This increases the life cycle of a bollard and benefits the Circular Economy. Not only will the steel bollard last for many years, but when the time does come to replace, the product can be recycled and reused in other forms.
Why buy your telescopic bollards from Bailey Streetscene?
Bailey Streetscene isn't just a street furniture supplier, we are a trusted partner for many architects and main contractors within the UK.
Recognising the complex challenges faced by architects and main contractors, Bailey Streetscene has developed its range of telescopic bollards to provide solutions that are aesthetic, functional, and sustainable.
We feel telescopic bollards are an excellent specification solution for urban environments, combining the need for security with the desire for aesthetic appeal.
We work with architects and contractors on a daily basis with telescopic bollards, as well as other street furniture products, guiding on product selection and technical advice.
Our team helps to bring certainty to your project, ensuring you get the right specification, at the right price, and delivered on time.
If you would like more information on our range of telescopic bollards, feel free to contact our team on telephone 01625 855900, email at enquiries@baileystreetscene.co.uk or view the individual products above.