---
A complete suite of impact tested street furniture to IWA 14-1 standards
Offering security & protection to pedestrians and urban infrastructure while enhancing the aesthetic value of the space.

---
BSFG now offer 2 systems that allow for Hostile Vehicle Mitigation (HVM) to be integrated into well-designed street furniture elements, bringing discreet public safety to urban spaces

PROTECT CORE utilises a shallow-mounted structural column to support and reinforce a full suite of street furniture elements.
Offering enhanced security and protection to pedestrians and public infrastructure without compromising the aesthetic value of a space.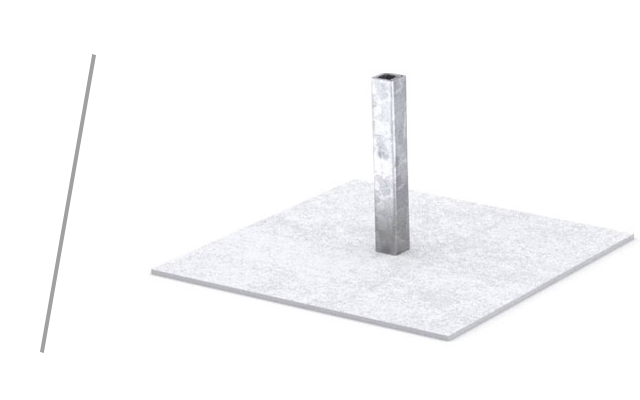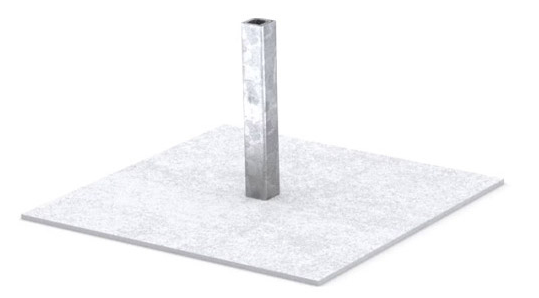 ---

INSPIRA PROTECT is a modular planting system featuring a reinforced structure designed for Hostile Vehicle Mitigation (HVM) offering security & protection to pedestrians and infrastructure without compromising on the aesthetic values of a space.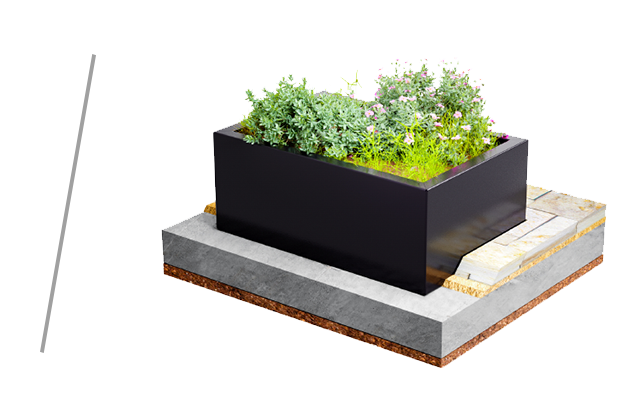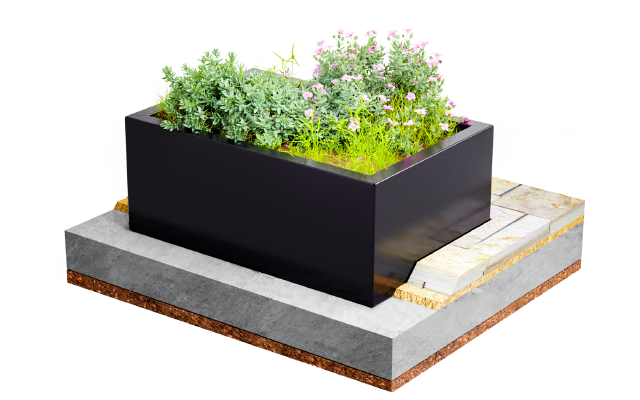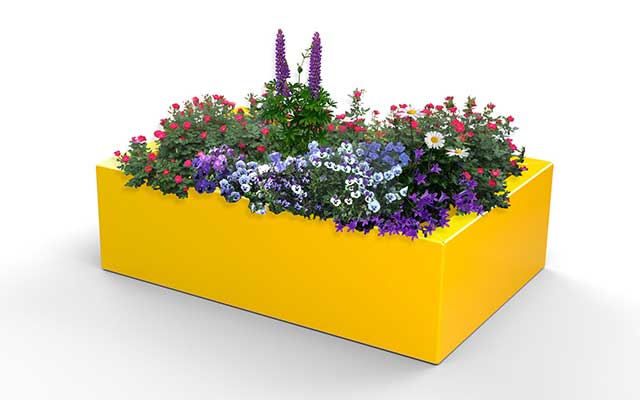 INSPIRA PROTECT PLANTER
---
Inspira Protect Planters has been tested to IWA 14-1 standards to withstand impact from both 1.5 and 2.5 tonne vehicles.
Inspira Protect features an impact resistant fully-welded steel support frame. Sub frame and cladding panels are all hot-dip galvanised to BS EN 1461:2009 and powder coated to site specification. The planter sits at top a slab foundation of 150mm. The modular design can be scaled up where needed. The 2.5 Tonne version features a higher axle impact point with a height of 600mm.
DIMS: Above ground – (standard unit) H: 450/600m x L: 1500 x W: 1000mm
MATERIALS: Galvanised & Powder-Coated Steel
IWA 14-1:2013 TEST RATING: H: 450mm - V/1500[M1]/48/90:0.0 H: 600mm - V/2500[N1G]/48/90:0.0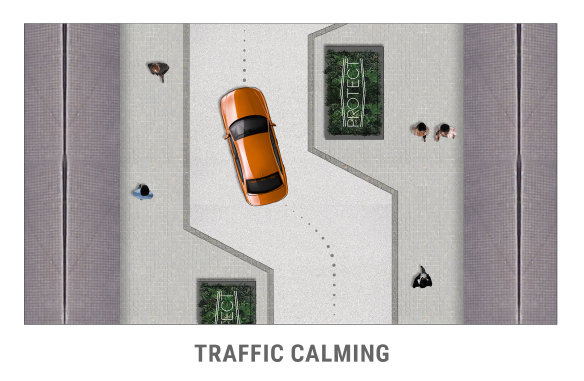 TRAFFIC CALMING
---
Inspira Protect can be positioned to achieve a zig zagged route for vehicles to travel in built up areas – this reduces the chance of a vehicle reaching a speed to cause damage. The benefit also rather than just bollards is the addition of nature and biodiversity to the areas.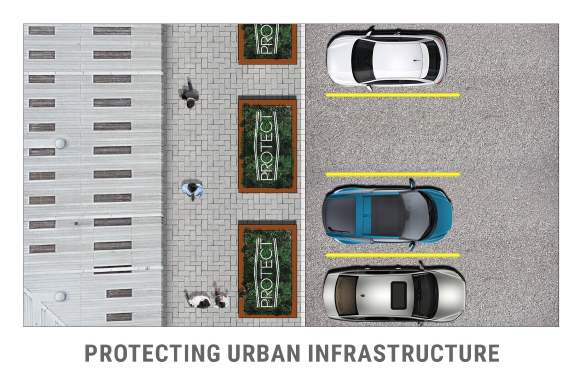 PROTECTING URBAN INFRASTRUCTURE
---
Inspira Protect is ideal for positioning in front of buildings and infrastructure in busy retails parks for example.
This allows for a clear and safe space for pedestrians to move around and eliminates the potential of ram raid attacks.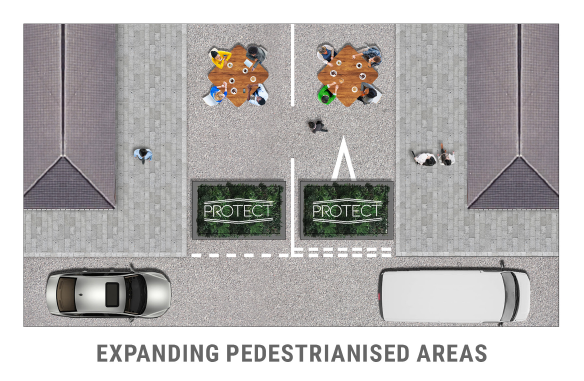 EXPANDING PEDESTRIANISED AREAS
---
Inspira Protect can be used to safely and effectively close off existing roads without required deep foundations of other certified impact resistant products.
Opening the space to hospitality and the community.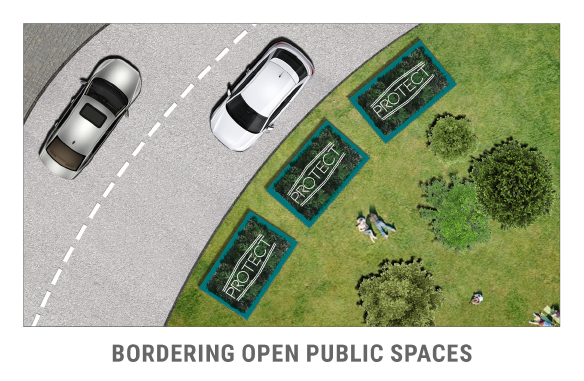 BORDERING OPEN PUBLIC SPACES
---
Inspira Protect can be used to securely section off green spaces without impacting on the aesthetic value of the space and still allow access for pedestrians and cyclists.
The planters also absorb sound thus providing a more ambient environment to a standard bollard.
Previous
Next
---

Bailey Street Furniture Group is part of the PSSA (Perimeter Security Suppliers Association). The PSSA represents companies worldwide who manufacture, install and consultant to provide high levels of physical security, including HVM. All members are committed to the highest level of quality to ensure public safety and client protection, displaying the PSSA logo as an indication of their quality.
---
Urban Protection
Urban protection furniture is essential in modern city planning, offering safety, durability, and aesthetic harmony. At Bailey Streetscene, we understand the critical role these elements play in urban landscapes.
Our urban protection furniture, crafted to blend seamlessly into various environments, provides an effective solution to the challenges of urban development.

Our products meet the highest safety standards while enhancing the visual appeal of public spaces, ensuring they cater to the needs of architects and main contractors working on urban projects.
Our Urban Protection Range
Protect Core
The Protect Core range at Bailey Streetscene stands at the forefront of safety and design innovation.
The range is impact tested to IWA 14-1 Standards and features a shallow-mounted structural column to support the range of street furniture elements, including bollards and seating, without sacrificing aesthetic value.
The Protect Core products are ideal for areas requiring enhanced security measures while maintaining an inviting atmosphere.
Inspira Protect
Our Inspira Protect line features modular street planters which feature a reinforced structure specially designed for Hostile Vehicle Mitigation (HVM).
Architects and main contractors appreciate the aesthetic benefits the Inspira Protect range brings to an urban setting, while bringing a high level of safety for pedestrians.
The Inspira Protect planters not only serve as safety barriers but also contribute to biodiversity, making them a perfect choice for retail parks and busy urban areas.
Benefits of Urban Protection Furniture
Safe and secure
Our urban protection range is designed to ensure the safety and security of public areas. From impact-resistant bollards to secure cycle stands, litter bins and seating options, each product is rigorously tested to meet stringent safety standards.
We focus on creating environments where people feel protected, whether they are walking through bustling city centres or relaxing in public parks.
Increased durability
Durability is a hallmark of all Bailey Streetscene products, but particularly so for the Protect Core and Inspira Protect ranges of urban protection furniture.
We use high-quality, robust materials capable of withstanding harsh urban conditions. Our urban protection furniture is not only built to last but also requires minimal maintenance, ensuring long-term functionality and cost-effectiveness.
Aesthetic appeal
Our urban protection furniture is designed with aesthetic appeal in mind, complementing and enhancing the surrounding architectural landscape.
The contemporary styling of the Protect Core and Inspira Protect furniture means it enhances any urban area, whether it features traditional buildings or modern structures. Our urban protection furniture effortlessly blends timber and stainless steel.
Sustainable choice
Sustainability is at the forefront of our design process for our urban protection furniture.
We use environmentally friendly materials in the design and manufacturing, such as timber and stainless steel.
This gives your project green credentials and aligns with the UK Government's Carbon Net Zero Strategy.
Members of the PSSA
As proud members of the Perimeter Security Suppliers Association (PSSA), Bailey Streetscene is committed to upholding the highest standards of quality and safety in all our products.
Our membership in the PSSA signifies our dedication to providing top-tier urban protection solutions, ensuring public safety and client satisfaction.
Why buy your street furniture from Bailey Streetscene?
Choosing Bailey Streetscene for your urban protection furniture means selecting a partner committed to excellence in safety, design, and sustainability.
First and foremost, our urban protection furniture is of the highest quality and certain products have undergone rigorous testing to IWA 14-1:2013 standards.
Our membership with the PSSA (Perimeter Security Suppliers Association) also demonstrates our commitment to street furniture that provides high levels of physical security, including HVM.
We offer comprehensive support, from consultation to installation, making us the preferred choice for architects and contractors seeking reliable, aesthetically pleasing, and sustainable urban protection solutions.
Service is at the heart of everything we do, and our team here at Bailey Streetscene are not just there to supply you with a piece of street furniture, but there to help you solve a problem.
Whether you are looking for a quick and efficient product recommendation, or you are looking at suitable pieces of street furniture for a specific purpose.
Our team helps to bring certainty to your project, ensuring you get the right specification, at the right price, delivered on time.
If you would like more information on our range of urban protection street furniture, feel free to contact our team on telephone 01625 855900, email at enquiries@baileystreetscene.co.uk
Read more
---
If you have an idea or proposal for an outdoor space, we would be happy to advise how our PROTECT range could be used for passive security protection.
Our team of technical specialists and product designers can work with you to develop a solution that will meet the design intent of the site and maximise visual appeal in a secure environment.
Open up public spaces with the PROTECT Range