Our New Refined Deacon Shelter Range
Posted on 10/06/2019

We have recently reengineered and updated our Deacon Shelter range, which is now offered in a variety of Standardised modular sizes, with the objective to deliver greater value, improved quality and faster manufacturing times.
This adaptable system of modular parts can be used for cycle parking, protected waiting & smoking areas in addition to bin storage facilities.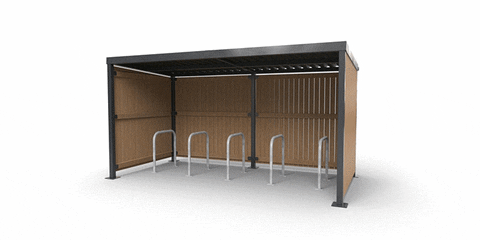 These new shelters have evolved from our original bespoke design of the classic timber and steel Deacon Shelter but now offers you a more cost effective solution for your storage needs.
The shelters are ideal for schools and colleges as well as offices, apartments and healthcare facilities.
This modern design can be completed with mesh or timber clad gates to the front offering increased security if required.
Additional powder coating finishes and a selection of timber species are available to choose from.
The junior shelters have a 2.1 metre depth and the senior shelters have a 3.1 metre depth as standard, which can double the space for cycle parking.
Interested? Get in touch.